Communauto Atlantic is committed to social equity and mobility, so we are very excited to introduce our "Access-Ability Program".
Car mobility is very important in our society and Communauto Atlantic is aware there are barriers to some folks using our cars, we hope this shared van will mitigate some barriers.
Please keep in mind that this is a pilot project and we welcome feedback and suggestions, send us a message using our contact form or by calling 1 855 981 5077.
All Abilities Van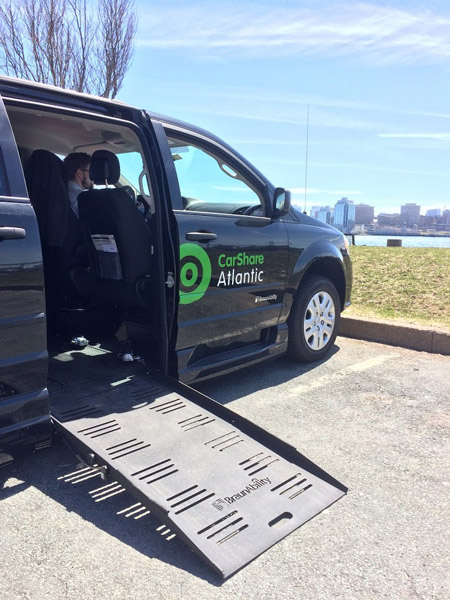 A fully automated, accessible van for people with disabilities who have a license to drive with hand controls and for people who care for those with physical limitations.
It can be driven with hand controls or with foot pedals as needed.
This van is located at the Central Library in an extra wide spot so the side ramp can fully deploy. It is a roundtrip vehicle that must always return to the library at the end of your reservation.
The ramp has a seven-degree slope, so it is easy to get any type of wheelchair or even a small scooter inside.
The van will already be equipped with an Accessible Parking Zone Permit's.
If you would like access to this van, either for yourself or to drive someone you care for, please contact us.
For specific questions about using the van you can refer to the Wheelchair-Accessible Van Operating Manual, which is specific to this vehicle.
How do the hand controls work?
If you aren't licensed to use hand controls, simply drive the vehicle as usual.
If you want to use the hand controls, detailed instructions are available in the car or by request. However, it's pretty simple! Take the spinner knob out of its compartment, and within 30 seconds of turning the car on, press the button to activate the hand controls.
Note: Use of hand controls without the proper licence is prohibited and could result in the suspension of your Communauto Atlantic membership.
If you want a licence to drive with hand controls there is a Driver Evaluation Program offered through the Occupational Therapy Department at the Nova Scotia Rehabilitation Centre.
If you are from another province or country, we can accept other proof of a hand control licence from another administrative body. More information if you do not have a Nova Scotian licence.
Becoming a Member
Anyone who wants to drive any car in the Communauto Atlantic fleet must join as a member. To do so, please fill out an application. After your application is accepted you will receive a member number. At this point you can start making reservations. But remember, you can not drive the van until your orientation is complete.
If you would like access to the van, please use promo code "ACCESS" when you register. A member of our team will then contact you.
Our Partners on the Access-Ability Project
Government of Nova Scotia

Embracor Medical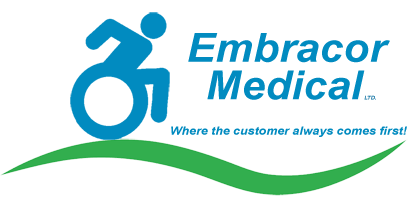 Halifax Public Libraries